4 Exotic Pets That are Perfect for Apartments
May 17, 2011 By admin Leave a Comment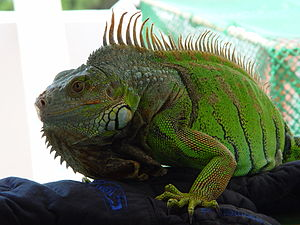 Green iguanas (Iguana iguana), are popular exo…
Image via Wikipedia
Pet lovers renting apartments have to be careful to make sure, not only that the apartment they rent allows pets, but that their lifestyle is conducive to pet ownership. Some people simply don't have enough time to care for a dog or cat. However, if you are a pet lover in this situation fear not, there are alternatives to these traditional pets.
Owning a more exotic pet, one that requires less day to day care could be the solution. There also are apartments for rent that allow exotic pets, but may not be as welcoming to domestic pets, such as cats and dogs. Let's explore some of the choices.
COCKATIELS: This exotic and colorful bird requires little care, can stay in the cage while you are at work, and yet it can learn to talk. Following a healthy diet, having play time and interaction with people, a cockatiel can live more than 20 years.
IGUANAS: Iguanas require an aquarium with light and warmth. They like to climb on small branches, and eat iguana food, with a smattering of fresh fruits and vegetables.
SCORPIONS: A scorpion may be just the right choice. It requires little care, an aquarium, and it eats bugs. There are courses available to learn exotic pet care.
FERRETS: Playful and fun to watch, a ferret will sleep most of the day and is most active in the early evening, perhaps the perfect pet for an apartment owner with a full time job.
With so many types of exotic pets to choose from, having an apartment does not mean giving up one's love for animals.
Pet Food Recalls-FAQ
May 17, 2011 By admin Leave a Comment
A Pet's Place store in Hatert, Nijmegen
Image via Wikipedia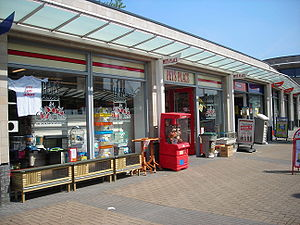 Pet owners need to stay up to date on food recalls and be aware of the potential health problems that contaminated products pose to animals. Here are answers to common questions when your pet has been exposed to tainted food.
Why is my pet's food being recalled?
The FDA tests samples of pet food and will issue a recall if substances like melamine are found.
What is melamine?
Melamine is used as an industrial binding agent and as fertilizer in some parts of the world. It has been known to cause severe kidney damage in children and pets that have ingested melamine-tainted food. In 2007, a massive recall was initiated after melamine was found in wheat gluten imported from China. Pets that ate the tainted food suffered serious illnesses and even death.
What if my pet gets sick from recalled pet food?
Contact your veterinarian immediately. You may also consider contacting a class action attorney Los Angeles or other cities offer to discuss potential settlements.
How can I be sure my pet is getting the best quality food?
The American Society for the Prevention of Cruelty to Animals (ASPCA) recommends only high quality, premium pet food because these brands are extensively researched and specially formulated.
Is it safer to feed my pet homemade food?
Recalls are very rare and, as long as you are choosing a premium product, you may never run into a problem. Homemade diets are an option, but will require time, effort and money to ensure your pet is getting adequate nutrition. Consult with your veterinarian or an animal nutritionist before beginning a homemade food plan.
Stop Barking..!!
March 28, 2011 By admin Leave a Comment
Owning a dog has a lot of positive effects, but everything in this world comes with its own share of negative things as well. Similarly there are few negative things about having a dog as a pet. And one among them is the excessive barking of a dog especially at the middle of the night, which may be a major cause of disturbance and annoyance not only to the owners but also to the neighbors which in turn can create disturbances in the social interaction between the owner and the neighbors. Few dogs develop a habit of barking unnecessarily throughout the night thereby creating nuisance, in order to solve the problem one should break that habit, which can be done by taking assistance of the bark collars. A bark collar is a device which gets activated when a dog barks and causes irritation to the dog which upon realizing the cause of irritation will stop unnecessary barking.
There are many different types of bark collars available in the market which uses different mechanisms to train the dog and prevent it from barking unnecessarily. Among them are the ultrasound bark collars which get activated when the dog barks and emits ultrasonic sound waves which are audible to dogs and irritates the dog for few seconds. There are other collars which when gets activated gives a small jolt of electric shock to the dog. The dogs are sensitive to Citronella, they find its smell very irritating, this is made use of in few bark collars where Citronella solution is stored in the collar and when activated a tiny amount will be sprayed near the nose and causes irritation to the dog and gradually fades away.
Filed Under: Pets Care Tagged With: Bark, Dog, Shock collar
Walking With The Dogs
March 24, 2011 By admin Leave a Comment
Dogs are the most faithful animals and they are social animals as well. There are a lot of people who have dogs as pets and there is also one common practice which most of them follow, which is taking the dog out for a walk. Even though it is mostly out of the habit, it has a great benefit for the dogs as well. There are a lot of reasons why we should take our dogs out for work. . The dogs are used to roaming around as they are born to be nomadic before they were tamed and used as pets. Taking a dog out for walk is like meeting one of its daily needs just like eating. The daily walk instills the sense of territory in them and they will be familiarized to the surroundings and which will help them to roam around easily and also get back home on their own by chance they get lost. Walking alongside ones dogs also helps create a bond between the dog and the owner and also it helps the owner gain and maintains the authoritative status as the leader. It is advisable to talk with the dog while taking it for a walk and also stick to punishment free obedience training.
By taking the dog out for walks in the locality, it gets a chance to socialize with the other dogs in the locality and it helps the dog develop socializing skills and also helps it overcome its aggressiveness and timidity. And more important is the exercise the dog gets while walking. The pets seldom get a chance for physical activity when at home and the physical activity in necessary to maintain good health.
Filed Under: Pets Care Tagged With: Dog, Pet, Physical exercise
Why Golden Retrievers?
March 20, 2011 By admin Leave a Comment
Dogs are regarded as the man's faithful friend and among the many breeds of dogs, Golden Retriever is one. Golden Retriever is a very sought after breed of dogs and they are popular and preferred for their high intelligence among the dogs and also for their gentle temperament. The Golden Retrievers are considered to be very loyal and they love to please their owners. The Golden Retriever is an excellent choice for someone who is looking for a dog which is easy to raise and maintain. These Golden retrievers don't show behavioral problems and they are a low maintenance breed.
These Golden Retrievers have got their name because of their coats which are generally in different shades of cream and gold. The Golden Retrievers have a thick coat and they shed all around the year, which is one of the problems faced by its owners and this problem can be overcome by brushing the dog everyday for few minutes thereby preventing the hairs from falling all over the household.
These dogs have dark, round attractive eyes, broad head and a straight muzzle. The male Golden Retrievers reach up to the weight of 70lbs whereas the females weigh around 60lbs and these dogs can grow up to heights of 21 to 24 inches. The golden retrievers grow very fast and they can attain half of their weight within months.
These dogs are comfortable growing in both small and large living spaces but care should be taken that these dogs get enough exercise as they can easily gain weight and grow fat. The Golden retrievers are very social and it is advisable to pay attention to it for at least a hour or two per day
Filed Under: Pets Care Tagged With: Dog, Golden Retriever, Pets
Insurance for Pets
March 16, 2011 By admin Leave a Comment
Almost every family has an insurance policy, maybe life insurance, insurance on property or other things. Among the list of things that can be insured, there is one more add on to the list in the recent years. The add on being pet insurance which is in fact a new concept even though it was first used in the year 1982 to Lassie, which was a renowned canine star of the TV and the Veterinary Pet Insurance also known as VPI has grown ever science. It has become popular in the recent times which com4es close to the heels of the new development s in the field of veterinary sciences and also the availability of various complex instruments and devices for the diagnosis and the treatment of the pets. The usage of these sophisticated instruments was confined only for human health and treatment until made accessible to the veterinarians. The usage of these devices has made animal healthcare more efficient and also there is a peak increase in the veterinary bills. It is surprising that few veterinary procedures cost more than 5000 USD.
Even though getting a veterinary pet insurance policy seems to be a unnecessary expense for many of the pet owners it is found that more than 25 billion USD was spent by the Americans on pet healthcare in the year 2006 alone and it is gradually increasing according to the American Veterinary Medical Association. The average veterinary pet insurance costs for a dog per month will be roughly around 340 USD. Getting an insurance cover for the pet does not mean that all the medical expenses are taken care of by the insurance as one still has to pay for the deductibles.
Filed Under: Pets Care Tagged With: Health, Insurance, Pet insurance
Are commercial pet foods safe?
March 9, 2011 By admin Leave a Comment
The health standards and the average life span of the pets are falling gradually in the recent years and it is noticed that a fair percentage of pets suffer from various health problems which includes physical as well as behavioral problems . Upon analysis, the pet nutritionists seem to agree that this is mainly due to the poor nutrition which is the root cause for all these problems among the pets. It is also found out the pet foods available in the market are not really as nutritious or healthy as it is being claimed. The vets believe that the chemical additives used in these commercial pet foods are responsible for the deteriorating health of the pets.
It is found that the pet food contains huge amounts of BHTs, BHAs and Ethoxyquin which are responsible for producing the odor and also release certain gases which in turn make the packed pet food unfit for human and even animal consumption.
Even these pet foods sometimes contain traces of animal wastes and pathogens from the diseased meat. The Ethoxyquin used in these animal foods as preservative is in fact a potent herbicide and which is capable of causing damage to the liver and kidneys in the humans who are in prolonged contact with it. It is also found to be carcinogenic in humans. This chemical also has a range of harmful effects on the animals which include immunodeficiency syndromes, cancer of stomach, spleen and liver and many more which answers the rise in health issues in pets which are fed commercial pet foods. Also the use of sweetening agents like sucrose and cornstarch causes a lot of stress on the pancreas which can cause diabetes and other ailments. Choosing the right food for the pets, preferably natural will help it lead a healthy life in these conditions homemade pet foods seems to be the safest bet.
Filed Under: Pets Care Tagged With: Health, Pet, Pet food
Homemade pet foods
March 7, 2011 By admin Leave a Comment
There are a lot of different brands of pet foods available in the market. With so many options popping up on the supermarket shelves with a wide range of prices and not to mention the claims made by the manufacturers one cannot be so sure about what they are feeding their pets with and how safe or nutritious are these foods really. Adding on to the confusion is the frequent recalls of the products by the manufacturers. There is only one way to overcome this and that is by preparing our own pet food which is safer for the pets and also comforting to the owners as they will know what goes into their pets. One can feed some of the nutritious food which they eat to the pets as well as they will be safe, wholesome and nutritious for the pets and also cost effective as well. The main ingredients of the pet food are meat, vegetables and starch. One can prepare large batches of the home made pet food and store in the freezer and use it as and when required. Meat is one of the main ingredient and it supplies adequate proteins required by the pet. The ideal pet food can be prepared by adding 40% of meat and 30% each of vegetables and starch. While switching the diet of the pets from commercial foods to homemade foods, it is preferable for the owners to do it under the guidance of the vet until the complete transition is done and the pet gets used to the homemade foods.
Feeding the pets with healthy homemade foods will reduce their exposure to various unhealthy preservatives, chemicals and additives which may affect their health. The homemade pet foods helps the pets have a healthy and a long life and reduces the frequency of visits to the vet as well.
Filed Under: Feeding, Pets Care Tagged With: Health, Pet, Pet food
Adoption Considerations
February 23, 2011 By admin Leave a Comment
A cat at the Seattle Animal Shelter
Image via Wikipedia
Adopting a new pet can be a fun experience, but there are many things that you have to keep in mind during this process. The first thing you have to consider is where you are going to adopt your pet from. If you adopt from a rescue organization you will likely have more freedom over what procedures you have to have done on your pet. However if you adopt from an animal shelter you will more than likely be required to have your pet spayed or neutered.
Once you have decided where you are adopting from, you get to pick your pet. This can be fun, but also very hard because you will likely want to take all of the animals home with you. Spend plenty of time and make sure you choose a pet that will fit well in your household. Once you have chosen your pet, you will have to get your home ready for your pet.
If you are bringing home an indoor pet, you will want to make sure you have a litter box or toilet area set up for them, and if you are bringing home an outdoor pet you will need to set up a fence or other way of keeping your pet safe. You will also want to provide them with a house or shelter to keep them warm and dry.
There are so many other little things you have to consider too. You want to make sure you have plenty of food, toys and other things to make your pet's first days at home comfortable for them. Before long, you and your pet will feel more comfortable with each other and you will find out what other items you need to help make their lives as rich as you can make them.
Filed Under: General, Pets Care Tagged With: Adoption, Animal shelter, neuter
Basic Cat Care
February 16, 2011 By admin Leave a Comment
Taking care of a cat is not a hard task, but there are many things you have to do that you may not think of when you first think about cat care. These tasks won't take up too much of your time, but they are chores that must be done if you want to be a good cat owner.
Feeding your cat will likely be easy. You will more than likely be purchasing a premade cat food that simply needs to be scooped into a clean bowl daily or twice daily depending on your feeding schedule. For a special treat you may consider a moist food a couple of times a week for your cat. Other than the food all you have to do is make sure your cat has clean water readily available.
Another chore is keeping your cat's litter box clean and fresh. You will have to change the litter frequently and keep it scooped out in between changes. From time to time you may want to completely empty it and then wash the litter pan out.
Brushing your cat may be a difficult job, or it may be easy. This all depends on the length of hair that your cat has. Cats do not often need a bath, but they may if they get into something messy or start to smell bad. You may also have to bathe them if they wind up with a flea problem.
As you can see, it's not a difficult job to take care of your cat, but it will take some time and care. Following these easy steps will help your cat to be healthy and happy and live a long and wonderful life with you and your family.