Choosing the Best Dog Toys
January 26, 2011 By admin Leave a Comment
Stuffed Polar Bear
Image via Wikipedia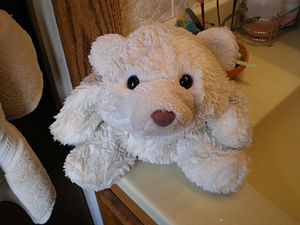 Choosing a good dog toy for your pet dog might seem like an easy task, but it isn't always. You need to consider toys that will keep your dog entertained – even when you aren't home – and keep him safe. There are a lot of toys out there on the market so it can be hard to know what one to choose. Below, take a look at some of the toys we recommend.
Kongs. Kongs are one of the best dog toys on the market. They are durable and dogs really enjoy playing with them. They come in many different sizes for all types of dogs. Kongs are rubbery toys with holes in the ends. You can stuff the toy with any goodies you may want. This keeps your dog occupied for hours! You can put goodies like biscuits or kibble inside these toys.
Puzzle balls. Puzzle balls help stimulate your dog's mental capabilities. Like the Kong, you can fill the puzzle balls with treats. The ball keeps moving and the pieces of the puzzle eventually fall out of the ball and give your dog something else to play with. Don't worry, the pieces that come out are completely safe for your dog.
Stuffed toys. If you have a dog that likes to tear things apart, then this isn't the toy for him. However, if you have a dog that doesn't like to tear things apart, then stuffed toys are great. A well-constructed stuffed toy will last for years. Look for a toy with fewer seems – these tend to be higher quality.
Dogs, like humans, like toys. Go ahead and invest in some great toys for your dog. Your dog will be happy and you'll be happy when you see how much fun your dog is having. As always, toys should never replace human interaction – they just help your dog to stay entertained.